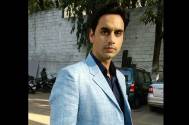 Waseem Mushtaq had lot many tiring days and nights, as he shot for the conspiring sequences and major drama recently for his &TV show, Dilli Wali Thakur Gurls. But now, the actor is in his laid-back mood, as he has gotten a break from the show.
Yes, all those who dearly want to see some romance brewing between the lead pair Dylan (Aamir Ali) and Dabbu (Sukirti Kandpal) in the show, this really is the time, as the wily Aseem is enjoying his time chilling at home.
With the Ramzan period on, Waseem sees this break as a blessing in disguise, and is making use of the opportunity to fast and also enjoy private time with his family and friends.
Says Waseem, "It is truly a great feeling to have an off time from work, especially during Ramzan. This has helped me to meet up with my friends in the industry, and also spend quality time with my family."
Waseem who is a friendly person by nature took time out to meet his Aur Pyaar Ho Gaya co-star, Rajeev Verma recently. He also plans to meet the Amrit Manthan gang in the next few days. "During the period of Ramzan, I see to it that I take my family out on few occasions for dinner to the Mohammad Ali Road to have a sumptuous dinner. I was there with my wife and Rajeevji (Verma) few days back."
A break is always a welcome change, but Waseem who is a workaholic, has already started missing work. "I miss going to the sets of Dilli Wali Thakur Gurls. I guess it will be like this for some time now. As you know, Aseem has promised to get back with a bang, and I am waiting for that very moment when he will return with fully charged energy (smiles)."
We await your return in the show, Waseem!! Till then, enjoy…