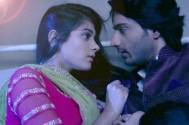 The love saga of Amaya (Hiba Nawab) and Mantu (Dhruv Bhandari) have been keeping viewers hooked to Star Plus' popular show Tere Sheher Mein (Director's Kut Productions).
With both the lovelies realising their feelings for each other, they will decide on participating on the village's most popular festival, the 'amar jodi' competition.
This challenge will test a couple's skills and compatibility and judge them on their love quotient. Apart from a lot many tasks, the guy would have to climb the temple top which would have 300 stairs as part of the final task carrying his lady love in his arms.
Shares a source, "Amaya and Mantu would learn about the competition and in a bid to test their feelings for each other would decide to participate."
Will Amaya and Mantu manage to win the challenge? Will their love prove to be true?
Talking about it, the dashing Dhruv said, "For starters, we have all hurt ourselves doing the tasks. But yes, it is an amazing experience shooting for this different track. Since the location is very nice, we are enjoying ourselves completely. Also we had vada pavs and bhajiyas during the break in this weather."
While Mantu-Amaya tread towards their romantic life, viewers will also get to see the other couple Ramashrey (Rafi Malik) and Rachita (Anjum Fakih) trying to overcome their heartbreak.