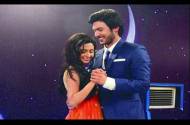 Now this one was definitely one relationship we were looking forward to.
The awesomely cute Veera jodi, Farnaz Shetty and Shivin narang aka Ranvi and Gunjan are in LOVE!!!
Our heart is melting already…
The two good looking actors met on the sets of their show and hit upon a strong friendship. Though rumours were rife about the two being in a relationship, Farnaz and Shivin dissuaded all by stating that they are just friends.
But as they say, ishq aur mushk chupaya nahi chupte (love and pimples can never be hidden).
Taking a bold step of announcing their relationship, Farnaz took to Facebook to profess her love.