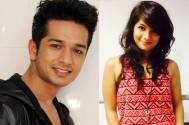 Polygamy might be a crime in our society, but certainly not in daily soaps.
Like many other daily dramas, something similar will happen in Life OK's series Jaane Kya Hoga Rama Re (Shobhna Desai Productions), we hear.
With Raju (Jatin Sharma) going to jail, Nandu (Vinti Idnani) will try to prove him innocent. While Sunny (Fahad Ali) will have evidences to free Raju from legal troubles, he will blackmail Nandu for the same.
A source associated with the show adds, "Sunny will ask Nandu to marry her, if she wants to free Raju from jail. Though hurt with the thought of leaving Raju, Nandu will finally agree to marry Sunny. Nandu will believe that more than being together with Raju, it is indeed important to prove the man innocent. Hence, she will agree with Sunny's conditions."
As Raju will not be aware of such development, he will start misunderstanding Nandu.
So, how will Nandu handle the entire situation? Will Raju be able to stop Nandu and Sunny's marriage?
To know the answer keep hooked to your television screens.
When we contacted Vinti, the lady replied with a hearty laugh, but refused to divulge any further.