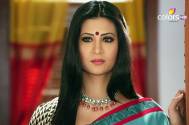 Parineeta Borthakur who essays the role of Sharmishtha in Colors' Swaragini (Rashmi Sharma Productions) has had a successful 10 years journey in the industry.
Being a philosophy student, Parineeta very well understands that nothing is permanent in this world. Hence it is very important to tread on the path of success carefully.
Says the actress, "I have completed 10 years in the industry, and I am glad that I am still there. Having said this, I feel I have a long way to go. This industry teaches you a lot, and success actually lies in the manner in which we handle our ups and downs. There are times when people on attaining name and fame get to be egoistic, forgetting that they could face a down moment too. Personally, I believe that all is temporary, and I go with the flow. I have been lucky to have a loving family and best of friends; they have supported me in both my good and bad times."
Parineeta is a day dreamer and is always lost in her dreams. "Yes, I dream a lot. Other than that, I read a lot, watch world cinema, and love my cooking."
She is close to all the actors on the set, but shares a special bond with Tejaswi Prakash Wayangankar. "I share my make-up room with Tejaswi and we talk to each other with an open heart. Apart from her, Alkaji (Kaushal) is very special to me."
Parineeta happens to be a very emotional person. "There are times when certain scenes have made me cry. Overall, the journey of Swaragini has been amazing, and I am having a whale of a time."
Be blessed, girl!!