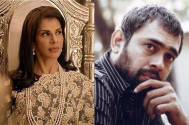 Singham fame Vineet Sharma is set to enter Zee TV's Ek Tha Raja Ek Thi Rani (Sphereorigins).
The mystery will double up in the show with the entry of the talented actor who will portray the role of Girdhari.
In the coming episodes, Ranaji (Siddhant Karnick) will almost beat Avdhesh to death but because of Gayatri's intervention, Ranaji will leave him. Later Ranaji will say sorry to Gayatri for not trusting her and as always, she will support him.
On the other side, Rajmata will go to the jungle to meet Girdhari so that he doesn't spill out the big secret he has been holding all these while.
He would kidnap Rajmata to take her to Ranaji, to reveal the secret. But to everyone's shock, Avdhesh would come and save Rajmata.
On returning to the palace, Ranaji would be convinced that it was Avdhesh in the first place who sent goons for kidnapping Rajmata. But the latter would side Avdhesh and clear Ranaji's suspicion.
Too much drama, isn't it?
We tried calling Vineet but he remained unavailable to comment.
Vineet's entry and kidnapping sequence will air this week.