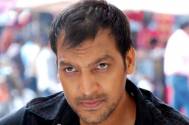 We all are very much aware of Manish Wadhwa's acting prowess and no one for sure can doubt that after his stunning performance in Mahakumbh (Arvind Babbal Productions) on Life OK. But the man surely possesses some more hidden talents which are finding proper expression these days.
Well the ace actor has now turned a photographer for his friend and colleague Azad Ansari (Charles) is what we hear. A cast from the set shared, as soon as the duo gets some time they starts clicking pictures. While Azad posses as a model Manish clicks them like a total pro.
When we contacted Manish to know more about his photography hobby, he said, "I have always been interested in photography. And I don't even remember since when I am perusing this. Since, nowadays I am busy with this I don't find much time to do photography, hence whenever I get time in between my shots I starts capturing moments and Azad's picture."
On the other hand, Azad candidly chatted, "This is our own way of recreation. Both of us enjoy doing this and I feel that Manish ji is such a wonderful photographer. I am even planning to put all the photos clicked by him in my portfolio. I am sure those will make me look ever cooler."
As the duo enjoys their share of fun moments on sets we wish them some more success.