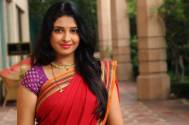 The pretty and good-looking Shweta Munshi has learnt her lessons with time!! The girl with a very Indian face feels that the going gets tough when one is typecast to playing a particular kind of character.
After playing the saree-clad Indian girl roles in shows like Dor and Bandhan, Shweta is now on the lookout for a role that is different.
Says Shweta, "I have been politely rejecting many offers, as they fall into the same pattern of playing a mother. Frankly speaking, I want to do roles where there is a need to emote more. I love the shows on Zindagi, and wish there will come a channel in Hindi on the same lines."
Shweta feels that she is more suited to the genre of emoting rather than being part of the comedy genre. However, Shweta loves certain shows on SAB TV. "SAB TV is really worth watching. Also, few of the shows on Star Plus give you a good feeling. I am happy and glad that television is coming up with few progressive shows now. In simple words, I want to keep away from the 'rona-dhona' stuff."
Ask her whether she will be interested with any kind of reality shows, and Shweta avers, "I am not at all a Bigg Boss kind of person. I will love to be part of a dance reality show, as I have had a good training in Kathak as well as Bharatanatyam for two years. Also, an adventure based show on the lines of Fear Factor will be good, as that will test my confidence levels."
Shweta who has earlier worked with kids in her earlier show, Bandhan is not happy with the new trend of kids slogging it out for hours together for TV shows. "My wish is that I need to get a show where I need not work with small kids. I really feel bad when I see them toiling like elders. I believe that the kids miss out on a lot, and lose their childhood very quickly.
Point well put, Shweta!!