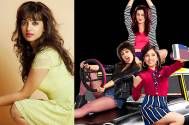 Radhika Apte will be seen on MTV Girls on Top where she will reveal her biggest phobia. Radhika will be seen performing a Hindi spoken word song called "Darr" as a special guest on Isha's singing reality show. The theme of the show is fear and how important it is to fight it. One of the main characters of the show, Isha has been struggling with some demons of her own, especially her fear of being judged for her appearance and slut-shamed online, leading her to develop body image issues, which really connects well with Radhika Apte's song. Radhika later talks to Isha and reminds her of how successful she is at such a young age, urging her to be strong and face her fears.
Radhika said, "It is extremely important for one to face their fears and live a bold life. As an actor we have to face many demons day after day and none of us want to fall in that pitfall but instead we want to fight them and continue rising. It was a great pleasure to meet the MTV Girls on Top gang. They are a gang of strong and beautiful girls who know what they want in life and are willing to fight for it and trying to overcome their fears each day."
Catch Radhika Apte in her upcoming movie Phobia releasing on May 27th and Girls on Top every Monday – Thursday at 6:30pm on MTV.