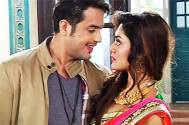 Life OK's drama Piya Rangrezz (Sphereorigins), which started a year ago, is all set to bid adieu to the viewers soon.
Starring Narayani Shastri, Gaurav S Bajaj, Kirtida Mistry, Kanwar Dhillon, Sreejita De and many others, the series will soon breathe its last episode.
Before you watch it on your television screen, here we reveal the details about the climax sequence.
Our source reveals, "In a fit of rage Arjun (Kanwar Dhillon) will try to kill Shamsher (Gaurav S Bajaj), but Bhanvri (Narayani Shastri) will intervene to stop Arjun. In order to save Shamsher, Bhanvri will shoot Arjun. While dying, Arjun will reveal to Munna (Afzal Khan) and Munmun (Neha Bagga) that Veer (Parv Kaila) killed Munmun's brother Manohar not Shamsher."
Post the revelation all the misunderstanding between Munna and Bhanvri will be cleared. Even Shamsher, we hear, will accept Aradhya (Sreejita De) as his wife.
Ahhh!!! All we can say is that all's well that ends well.