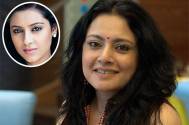 Star fashion designer Agnimitra Paul, who's designed clothes for many eminent Bollywood and Tollywood celebrities, has an important message for our readers. She believes that whatever happened to Pratyusha Banerjee can happen to any girl, who is in an emotional relationship.
When as asked if it was the pressure of limelight that compelled Pratyusha to end her life, she said, " I don't think that Pratyusha Banerjee succumbed to the pressure of being in the limelight. As far as I have heard, she was in a very emotional relationship with someone, who was not willing to commit. This can happen to anybody. She was only 24 or 25. To my understanding, her boyfriend had always avoided questions on marriage and used to poke her about her past relationships. The guy also had an ex-girlfriend, who used to visit them often."
"I think the pressure of being in the limelight has nothing to do with this suicide. Usually, girls tend to be a bit more emotional than boys. I guess, this has happened only because she was in an extremely emotional relationship", she further added.
So, how could one deal with difficult situations and avoid taking such drastic steps?
The fashion designer replied, "It's easy to comment on this, but it becomes difficult when one is in a relationship. Had it been my case, I would have also faced difficulties in handling such situations. But still, it is important to know how good your partner is. A girl must analyse and understand her situation, when she is in a relationship."
"It's not only about Pratyusha or any other celebrity, but whenever a girl is in a relationship, she must be able to intelligently deal with situations. One can't get carried away. One must be strong to handle such situations and when being tortured, one must have the courage and strength to come out of the relationship. When the guy is not respecting his girlfriend, she must have the strength to come out of it. You can't just simply allow someone else to take advantage of you," she signed off.