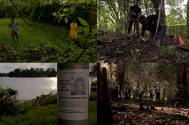 KILLING FIELDS will go inside a case that went cold nearly two decades ago in the small community of Iberville Parish, Louisiana, located just 15 miles from the state capitol, Baton Rouge. In June 1997, Louisiana State University graduate student Eugenie Boisfontaine was last seen near LSU's lakes. Two months later, her body was found nearby in a watery ditch with evidence of blunt force trauma to her head.
But who did it and why? Was it a single act of violence? Or was her murder part of a much bigger string of killings? Between 1997 and 2003, there were 60 cases of missing and murdered women in the area that went unsolved. And to make it even more complicated, the Baton Rouge area had multiple serial killers operating at the same time with two of the their victims living on the same street as Eugenie. Could these murders be connected?
Detective Rodie Sanchez was assigned to the case in 1997 and hasn't stopped thinking about it since. He makes the bold decision to come out of retirement and gets permission to re-open the case. Rodie is determined to solve the mystery and make good on a broken promise to Eugenie's mother: to find the person (or persons) responsible for killing her daughter.
Joining Rodie in the chase is a young hot-shot detective, Aubrey St. Angelo, who has a knack for reading people and isn't afraid to ask the tough questions. However, the two can't solve this case alone – they are joined by top-notch detectives at the Iberville Parish Sheriff's office.
With advancements in forensic science and DNA analysis, a lot has changed since 1997. But will this be enough to crack the case for good? And will Rodie be able to finally rest and move beyond the case that has forever haunted him?
Watch as the case unfolds in KILLING FIELDS, only on ID.