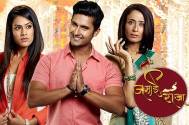 Grazing Goats Pictures' Jamai Raja on Zee TV yesterday aired its 200th episode (7 May). And the cast and crew are jubilant about it.
To congratulate, we buzzed the lead of the soap Ravi Dubey aka Sid and he said, "It's always great to grow and achieve greater heights. Television is primarily a women dominated industry but the acceptance that our show has received is tremendous. Jamai Raja has always managed to entertain masses and is one of the top rated shows. My deepest gratitude to our viewers and fans for their undying love and support."
While the very bubbly Nia Sharma, who is playing the role of Roshni, ended on short and sweet note, stating, "Congrats everyone in my cast."
Congratulations guys!