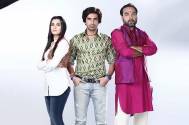 In keeping with its brand philosophy of Har Lamha Nayi Ummeed, Zee TV has always presented audiences with stories that have questioned prevalent mindsets, touched upon subjects close to the hearts of its viewers and been instrumental in driving a positive social change through its fiction shows. Zee TV's next primetime offering Sarojini captures the role education plays in making women more independent and confident of asserting themselves in their own households.
Set in the rustic interiors of Uttar Pradesh, the show traces the journey of Sarojini – a strong, well-educated girl who gets married into a family with a regressive patriarchal set up – a household governed, dominated and practically ruled by her over-bearing, chauvinistic father-in-law Dushyant!  Refusing to cow down to his controlling ways like the rest of his bahus, Sarojini takes the challenge head on and strives for a healthy balance of power and influence in the household, leveraging education to her advantage.
The show has an ensemble of talented actors. Shiny Doshi will essay the author-backed title role of Sarojini, a student of Delhi University, aspiring to be a teacher.  Viewers will follow her journey as the daughter-in-law who will motivate the meek women in the house to find their voice and speak up for their rights. As an actor, Shiny had always dreamt of essaying a hard-hitting role like 'Damini'. So, after she heard an initial narration of Sarojini, she waited for 6 months for the show to materialize, not taking on any other assignments. Having wowed the audiences with his spirited performances, the dashing Mohit Sehgal will be seen playing the interestingly layered character of Sarojini's husband Somendra.  Prominent film and theatre actor Pankaj Tripathi will play the role of the antagonist Dushyant – a prominent local businessman with political clout who single-handedly holds the reigns of his family, right from the decisions of their lives to dictating what gets cooked in the kitchen!
Zee TV Business Head Pradeep Hejmadi said, "Zee TV, as a socially responsible broadcaster, has always created awareness through its content and influenced public mindsets positively. Sarojini endeavors to highlight how education serves as the wind beneath a woman's wings, giving her the self-esteem she needs to assert herself. Our protagonist Sarojini will surely be a role model for countless women across India and a harbinger of hope and positive change."
Shiny Doshi who plays Sarojini says "The primary reason I chose this show was that Sarojini truly embodies the spirit and strength of every contemporary Indian woman – she's confident and bold and at the same time, has her family values intact.  It drives in a message that if you want to drive real change, it has to begin at home. I am sure every girl will relate to my character."
Pankaj Tripathi says, "I'd stayed away from television for almost 4 years after my last show. But the role of Dushyant was an offer I could not refuse. Not only is it a hard-hitting role, but the show gives me an opportunity to work with producer Rashmi Sharma who I have immense regard and for a channel like Zee TV. Dushyant will grow on the audiences as the man they all love to hate."
Mohit Sehgal says, "After my cameo as Haider in Qubool Hai, I am happy to be a part of a Zee TV show yet again. I have, by and large, played urbane, suave characters. So, the role of Somendra – a carefree, young man from the rural interiors of UP is a departure from my image. I'm having a great time perfecting the accent to play the part flawlessly!"
Starting 20 July, Sarojini will air every Monday to Saturday at 6:30 PM, only on Zee TV.