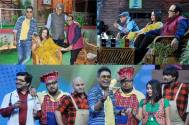 It's time to laud Zee Bangla's popular reality show Mirakkel, as it is set to stage a comeback.
Readers, just like the previous ones, this season will also rock. With its fresh concept, it is again going to make you laugh out loud.
Now coming to the concept, the episodes will now take place at a para (colony).
Wondering which colony?
Well, stepping out of the concept of a studio, the ninth season will present a real like colony for its audience.
Titled 'mirakkel para', the colony would be home to a variety of people. One khekure jethu (uncle), one dida(grandmother), Jhinku boudi (sister-in-law) and a kochi meye (a young girl) will be some of the residents of this colony.
In the same area, there would be three tenants residing namely Paran Bandyopadhyay, Srilekha Mitra and Rajatava Dutta.
Every night post dinner, they will assemble in the baranda (corridor) and witness the different episodes of mirakkel. And in this manner, the show will proceed.
Isn't it an interesting idea?
With Mir as the host of the show, one can always expect some super hilarious rib tickling moments.
So, gear up for some bone cracking laughter!!!
We tried reaching Mir, but could not connect with him.
Beginning from 10th December, Mirakkel will air every Thursday, Friday and Saturday at 10 pm on Zee Ban