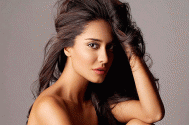 Model and actress Lisa Haydon, who will judge contestants of reality TV show "India's Next Top Model", says that rather than being easy or harsh, she will be "realistic" in her verdicts.
"I don't intend on being easy or being harsh… I intend on being realistic. I think it really depends on whether the girls perform properly.
"Unlike other shows, these girls have not modelled before. They have been scouted from cities and towns… they come from very different background, everyone comes from a different walk of life, so they have to be groomed," Lisa told.
Based on the famous US reality show "America's Next Top Model", the MTV show will feature multiple contestants from across the country who will vie for 'India's Next Top Model' title based on certain tasks.
The "Queen" actress informed that since she has been a part of the modelling industry long enough to offer something to them, "it's like probably time that they approach me for the show and I thought may be I have something to offer these girls in terms of advice, mentoring and judging and it's an exciting thing".
Explaining why modelling is a great career choice, the 28-year-old said: "It's a "great way to work with creative artists, brilliant minds, interesting people. You earn great money, and you become independent at a very young age.
"I know many girls look at the glamour of the industry with aspirational eyes, and I don't blame them because it is a great life."
Lisa is also upbeat about the International Indian Film Academy (IIFA) Weekend and Awards, which will be held in Kuala Lumpur, Malaysia, starting Friday. She is nominated for the Best Actress Award for her role as the protagonist's newfound friend in the Kangana Ranaut-starrer "Queen".
(Source: IANS)