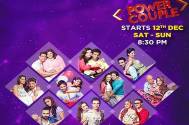 Couples who fight it out together, stay together. After all, life is about supporting each other during the worst of times. Sony Entertainment Television's latest reality offering, Power Couple, goes on floors from December 12, 2015.
The show that promises to test couples on everything that they have, we round up a list of reasons to look forward to this show…read on:
The ultimate power couple hosts: 
When your show is about choosing the most enigmatic couple of the small screen, it's but obvious to bring in the ultimate power couple of Bollywood, Arbaaz and Malaika, to host the series, right? Even though they come from different backgrounds, the two have always worked hard to make their marriage an epic success. Despite many a rumours of their fallout, the sexy duo has stuck by each other for a long time now. They are an inspiration to all the participants. What more do we want!
Real life-meet-reel tadka:
There are adventure shows, then are adventures that involve a real life couple. We can not only expect some tadka on the show, but also watch our favourite stars' chemistry with their better halves. Don't you think so?
We can do it too:
Imagine the rush of seeing our favourite telly couples doing the unimaginable. It makes us want to indulge in those games too. If celebs can test their relationship on national television, can't we test ours in our living rooms? If you're a daring couple, you can totally go ahead and judge your relationship! Well, just kidding.
Advice galore:
Considering how the couples have braved a lot of storm that come with a marriage/relationship, it would be interesting to see what genuine advice they dole out to us. Whatever they chose to tell us would actually come in handy during their long stay under the same roof. Don't you think so too, readers? We can pick up a cue or two too.
Are you excited for the show? Let us know your reasons for binging on it…