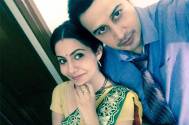 Pretty girl Ekroop Bedi who rose to fame with her stint as Gauri in Suhani Si Ek Ladki has been roped in for Sony Entertainment Television's Mann Mein Vishwas Hai's upcoming story.
As per a reliable source, "The story will be based on the rebirth cycle. Actor Tarul Swami will be seen playing Ekroop's husband in the story".
"The story will be about Nanda (Ekroop Bedi) and Kishore's (Tarul Swami) son who will be getting attached to their maid, Tara. This mysterious relationship will further help the kid to get saved from a lot of issues."
What is the secret connection? Well, watch the show to know more..
When contacted Ekroop, she confirmed and shared, "It is a beautiful story that I shot in Jaipur. I also got time to shop so it was leisure cum work project."
The shooting of the episodic is done and will air in the coming weekend.