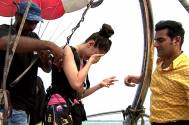 The strength of a relationship can be judged by how deeply a couple understands one another. As it is the week of love, Sony Entertainment Television's Power Couple will test the celebrity couples on their ability to communicate effectively with each other in a difficult situation without conversing.
This week's test 'Bezubaan Ishq' will see the boys parasailing as their partners will be on a boat enacting names of movies which they have to guess. Its Dumb charades with a twist.
However, in the course of the test Sanjeeda suffered a serious injury when she cut her hand and started bleeding profusely. As it is said that love conquers all pain, this injury didn't stop the pretty actor from giving her best and completing the test. On other hand, Aamir was seen sceptical to participate in the task when he knew they had to parasail as he has a phobia of water and heights. But not one to give up, even he let go of his fears for wife and performed well.
Awww…way to go girl!!!