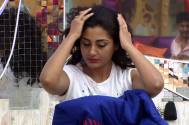 Bigg Boss Nau (Endemol & Colors) has not yet aired its first episode and we already hear about some dramatic sessions going on in the house.
After the grand premiere night yesterday (11 October), the only Bollywood star present in this season is all set to showcase her fascination with her make-up kit.
Eager to know more? Read on to find out…
What we hear from a source is that the Bong beauty is finding it hard to spend her days without make-up. When the entire team is having difficulties to match with the double trouble theme, she is one, who slept in the night without removing her make-up, so that she looks picture perfect after waking up.
And upon being encountered about the same by her double trouble partner Suyyash, Rimi justified her point by stating though she is not much fond of cosmetics but she wants to look her best in the show. Moreover, the lady continued that she doesn't want people to judge her by her looks, but she feels that she needs to look beautiful in the series.
Aha! Already geared up to grab all the attention Bong beauty?
Let's see for how long Rimi can continue with her obsession with make-up in the season.