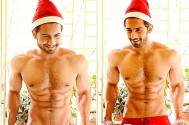 It seems Rehaan Roy aka Subhankar of Colors Bangla daily 'Meera' (Grassroot Entertainment) is in full naughty mood!
Wondering why we are saying so?
Then read ahead…
Well, the hot hunk has shed his cloths to become an unique Santa Claus.
Ahem…ahem…
Chill, readers! You do not need to close your eyes as his boxer is covering his 'thing'!
When we quizzed the actor to know about the concept behind this photo shoot, he quipped, "I feel the concept of Santa has changed now. He is no more that fat old Santa. It's time for a brand new handsome Santa; and yes, with a brighter smile. This is what I had in mind while shooting for the look."
So, what was the most interesting comment he received for this avatar? "Someone commented that she's not at all interested in the gifts if the Santa is so Hot….I feel that was pretty interesting," shared the actor.
What about the most weird comment? "The weird comment I got is Sardi me bhi garmi ka ehsaas," he said with a wink.
When asked to give his take on why there aren't people in Tollywood who are bold enough to do such photo shoots, the actor opined, "First of all people are not bold enough to come out of their comfort zone. Secondly, people don't pay that much attention to fitness. I don't eat rice, oily stuff, deep fried food…living literally on boiled and healthy food.  Neither I smoke nor I drink. I work hard towards my fitness and I feel very few people have that dedication."
"And about boldness, well I feel if I've got a good physique, I will definitely flaunt it. After all I have worked very hard for it," he added with confidence.
In that red hot boxer and Christmas cap, the actor is looking hot and sexy indeed.
We appreciate your guts, Rehaan.