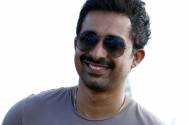 Actor Rannvijay Singha, who is currently seen judging stunt reality TV show "MTV Roadies X4", says he is happy to get a chance to get in front of the camera for the first time via a special video.
Rannvijay, who started his journey by becoming a 'Roadie', will be seen with his father Lt. Gen. Iqbal Singh Singha for the first time in the special video.
"I got a chance to work with my dad for the first time ever and he was as excited as me. My respect for him grows with every passing day and I'm glad I got a chance to share screen space with him because we had a blast shooting together," Rannvijay said in a statement.
In the clip, Rannvijay will talk about his "Roadies" journey and what has helped him.
The video will be used to launch a new brand of "Roadies" products and will be franchised by VDOT under the Roadies collection banner. Starting from MTV channel, the video will be released on all the Viacom18 networks and it will also go live in the virtual world later this week.