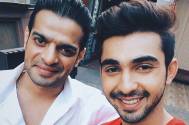 Moving away from Ishita's (Divyanka Tripathi) tragic accident, it is now time to witness the drama and chemistry between Raman (Karan Patel) and Aditya (Abhishek Verma).
The Star Plus and Balaji Telefims' daily, Yeh Hai Mohabbatein recently took a leap and it is rightly adding a lot of twists and turns to maintain the drama.
In the recent episodes to come, Raman and Adi will be seen getting into a major fight.
Shared a source, "After Raman will come back home, Adi will decide to confront him and push him to the level of a huge showdown."
Adi will ask Raman what he is doing with his life and also with his family. With him deciding to close all doors around him, his family is suffering. He will tell them that with them losing on their lovable Raman, the family has been left distressed. Adi will talk rudely to him stating that Raman is a stone hearted person who only cares about himself.
Phew! Too much drama…isn't it???
So wondering what would be Raman's reply? Well, the man would go ahead and slap Adi tight! Ouch!
Will this incident part the loving father-son jodi? Will Raman's relationship progress with his family?
We tried reaching Karan but could not connect with him.