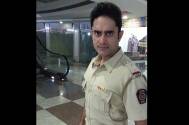 Seasoned actor Rajeev Bhardwaj excelled in his portrayal of Raawat Chundawat in Sony TV's Bharat Ka Veer Putra – Maharana Pratap.
Well, post being part of the popular historical show, Rajeev has taken a conscious decision of accepting many episodic roles.
And now, he will play the central role in an edge-of-the-seat hair-raising story in Sony TV's Crime Patrol.
Produced by ace Director Rakesh Sarang's Cams Klub, the story will deal with a psychotic cop, played by Rajeev who would target ladies whose husbands would have recently gone abroad. The story will revolve around the heinous crime committed by this guy, who would appear to be a very simple guy with family and kids in reality.
We hear that the high on emotion sequences, sequences wherein the guy gets slippered by the ladies, his confession sequence and the scene wherein his real calm self will be shown, have been shot extremely well with Rajeev coming up with towering performances.
When contacted, Rajeev told us, "Yes, it is always important to do episodic stories at regular intervals, as it captures the realistic side of tales very beautifully. I am enjoying playing this negative psychotic cop for Crime Patrol."
Way to go, Rajeev!!