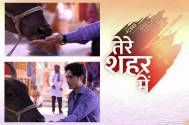 The young and handsome Rafi Malik swears by the name of God, when he says he is totally clean when it comes to his habits. A complete 'No' to drinks and cigarettes and any kind of bad habit, is exactly what Rafi's soul motto is..
However, Rafi's 'clean and neat habits' recently took a beating when he had to shoot for the most unhygienic scene for his show, Tere Sheher Mein on Star Plus.
Well, Rafi literally had a nightmare when the Director's Kut team wanted Rafi to shoot for an extremely romantic scene… Aah, are you wondering what we are referring to?
Well, that's because the sequence required Rafi to romance a cow, with the scene ending with the cow licking Ramashrey's (his character) hand.
You heard it right!!
The scene will have Ramashrey romancing his lady love Rachita (Anjum Fakih) in his dreams, while in reality he will end up romancing a cow.
Oopsie, so how did Rafi manage to do it all?
We hear that Rafi and the 'chosen' cow needed as many as 17-18 takes to get this scene right!!
When contacted, Rafi laughed out loud and told us, "Yes, it was a very tough sequence for me. I have never let any kind of animal near me, as I am very hygiene conscious. And for the cow to lick my hand was something that I could not accept. However, I had to shoot for it and it was one crazy shoot schedule. The animal used to clean its nose for one second and then lick me the next second; its tongue was so rough that I could not concentrate on the scene at all. Overall, we had to go through nearly 18 retakes to get it right. And by the end of it, I breathed a great sigh of relief."
We hear that this particular sequence will have viewers in splits for the funny way in which it has been shot.
As for Rafi, we hope he gets to romance his girl on-screen very soon, to negate this 'null and void' effect.