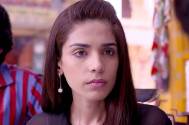 Time for some major drama in Rajan Shahi's show on Star Plus, Tere Sheher Mein!!
The one-sided love story of Rachita (Anjum Fakih) and Ramashrey (Rafi Malik) will take an interesting twist with Rachita going missing all of a sudden!!
Yes, viewers will be in for a shock with Rachita getting kidnapped in the coming episodes. There will be complete mayhem in the Choubey and Mathur family with them not able to trace Rachita.
And the most intriguing part in this whole kidnap drama will be that Ramashrey will also not be seen at the same time!!
However, there will also be a loose thread hanging over Dev's (Bhupinder Singh) hand behind the kidnap. As we know, the truth about Dev being Rachita's father has already been revealed to the audience.
And the intrigue factor over whether it would have been Dev's move to get Rachita back will also be played upon by the makers.
Is Ramashrey's love for Rachita the reason for the kidnap? Or is Dev hatching a plan against Sneha?
Only time will tell…
We tried contacting Anjum, but did not get any response.