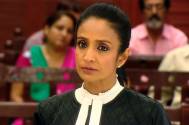 Actress Suchitra Pillai will walk into courtroom drama TV series "Adaalat" as a lawyer and she says playing the role of a legal entity instills a "sense of power" in her.
The actress will be donning the coat of a public prosecutor for the second time for the show, which revolves around a lawyer, named KD Pathak, who solves twisted cases with ease.
"I am glad to be a part of the show once again. I am totally comfortable with the role and I embrace the fact that you can have a voice of your own. It gives me a sense of power which is something that I like. For me, working as a public prosecutor this time was much easier as it's my second time, but your first time is always memorable," Suchitra said in a statement.
Actor Ronit Roy slips into the role of KD Pathak for the Sony Entertainment Television show with perfection, which has impressed Suchitra.
The actress, who has also been part of TV shows like "24" and "Beintehaa", heaps praise on Ronit, saying she looks forward "to working with him".
"As always, it's been fabulous working with Ronit. He definitely is a dedicated and brilliant actor who knows his work thoroughly. Throughout the shoot he has helped me by giving me tips and making things easier and comfortable for me. I surely look forward to working with him in the future," she added.
The episode will beam on Saturday.