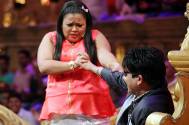 It is not everyone's cup of tea to make fun of themselves.
Only few are blessed with such sporting spirits. And one of the most talented of them is surely Bharti Singh, the ace comedian.
The lady, who can make all of us laugh with her mere presence on stage seems to have failed this time. And the one, who apparently was not too impressed with Bharti's performance, was none other than popular public figure Kamaal R Khan.
A source informed us that as ex-Bigg Boss contestants, Ajaz Khan, Kamaal R Khan, Rahul Mahajan and Sana Khan made an appearance on Comedy Nights Bachao (Optimystix), Bharti welcomed the guests by using her wise wordplays.
In her usual witty manner Bharti continued that KRK imports everything from foreign countries and reviews Bollywood films. To this, KRK retorted by stating that he does not only review them but also takes a dig at them. But, as we all know Bharti, such words couldn't stop her, she continued to make fun of KRK.
This certainly did not go down well with the controversial figure.
When Bharti asked him to review her performance, he replied that he has never reviewed a low and cheap act and even compared it with a 'Bhais (buffalo)' act.  As Bharti later on insisted others to join her on the floor to dance, KRK directly insulted the lady stating that he dances only with pretty girls.
Oops, man, not a very clever choice of words, we say.
Though Bharti remained relentless, things surely went a bit sour for the duo