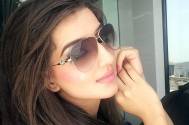 Television actress Lovey Sasan has bid adieu to the popular TV show "Saath Nibhana Saathiya".
The actress confirmed this to IANS via a text message that read: "This is to confirm that I'm no longer a part of the show."
However, Lovey, who became a part of the Star Plus show a year before, refrained from delving into the reason behind her decision.
The show, which started with the focus on the relationship of two sisters and how it changes after they get married in the same household, has underwent a lot of twists. It also took a ten year leap earlier this year.
Lovey, who played a pivotal role as a wife of one of the male leads, was shown as a mother post the leap.
If sources are to be believed then the real reason for the step is that she doesn't want to play role of a mother but characters that suit her age.
"The reason is that she wants to take a break and was done playing the role of a mother at an age of 25 year. She was also getting offers for good leads for other shows. Today (Wednesday) was her last day on sets and she will wait till she gets a role worthy to her age of 25," a source said.