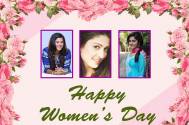 Womanhood is  not just beautiful but are also inspirational.
And the purity of womanhood is celebrated with much galore on Zindagi shows. Today, on International Women's Day, popular and talented actresses from the channel, Karuna Pandey, Sonali Nikam and Aiza Khan talk about being a woman and Women's Day.
They are not just  motivational in reel, but also have been strong and independent in their real life! Salute to them!
Let's see what message they have for their fans…
Karuna aka Padmini of Bhaage Re Mann: Women are the foundation in every home. It's important that they are educated and empowered. But above all they should be respected and loved for their priceless contribution. They are the ones who hold the family together and bring in prosperity and happiness. They are a powerhouse of talent. As a nation, we need to encourage and support them and help them to achieve their dreams."
Sonali aka Jassi of Aadhe Adhoore: I have been brought up in an environment where the ladies of the house are respected and girls are highly adored. I wish that this happens in every home and women get their due respect for which they are and for the multiple roles, they play effortlessly. To ensure this happens, the only message I have is – empower every little girl with education and inner strength so much so that they can earn respect and are able to take their own decisions. More Power to you, Happy Woman's Day."
Aiza aka Nayab of Do Qadam Door Thay on Zindagi: Never allow anyone to break your soul. A woman is the one who builds her own world, she is strong enough to pick up the pieces, rebuild herself and comeback stronger than ever. Happy Women's Day to all my beautiful ladies."
Happy Women's Day all you gorgeous women!