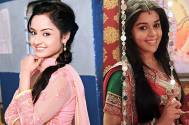 The pretty, little, lady, Dhaani (Eisha Singh) from Colors' drama Ishq Ka Rang Safed (FilmFarm) is soon going to face some more trouble is what we hear.
We know, this is nothing new for the lady, but this time it seems that she is going to land up in some big trouble.
Without informing Viplav (Mishal Raheja), Dhaani has already joined a night school, which is located near a red light area. And Kamini (Ishita Ganguly) is the master mind to put Dhaani into such trouble.
The loyal viewers have seen that how Dhaani got trapped into the situation and a judge Asthana saved her from the situation.
In coming days, we hear, Asthana will try to create trouble for Dhaani.
"Asthana will call Dhaani and ask to meet him for her case. But, instead of Dhaani, Kamini will answer the call in Dhaani's tone. She will provide a wrong impression of Dhaani to Asthana by stating that she is willing to do anything for him. Naturally Asthana will take the entire conversation in a wrong sense", adds our source.
On the other hand, Kamini will ask Dhaani to meet him to put the lady into some more trouble and to create misunderstanding between him and Viplav.
So, how will Dhaani save her relationship with Vipalav? To know the answer, stay tuned to the show.
We will come back soon with some more updates.