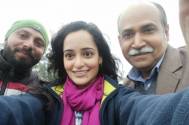 Life OK's upcoming series Bhakton Ki… Bhakti Main Shakti will deal with inspirational stories that revolve around the faith of an individual in the supreme power called God.
One such story produced by Sachin Mohite's Jaaswand Entertainment will have talented actress Jayshree Venkataramanan and veteran actor Shahab Khan playing crucial roles.
The story will revolve around a happy family wherein the bread winner and son of the family will be a successful journalist working in Gulmarg. His life would be complete with his adorable wife expecting their baby. Also with the care and guidance of the boy's father (Shahab), all would be fine in the family till the point where the son would be deputed to a work in Gulmarg.
With the region facing severe snow fall, people in the place would be in danger, and the son will go missing, never to return home. His absence will trouble his father and wife, and they will start their journey towards Gulmarg to search for him.
As per reliable sources, "The story will focus on the strong faith placed by the wife and father in the almighty showing them the right path to bring back happiness in their family. The journey of both of them will have emotional moments, wherein the pregnant lady will be driven by a sheer force and will power to get her husband back."
We hear that the cast and crew shot for this episodic in the vicinity of Vaishnodevi after seeking special permissions. Also, they shot portions of their story in Ardhkunwari, which is the midpoint to Vaishnodevi. Also, the cast and crew shot few sequences in Gulmarg.
When contacted, Jayshree told us, "Yes, this story has been a very emotional one for me. Also it is special as we shot for it in Vaishnodevi. I have always made frequent darshans of Vaishnodevi, and to shoot at the place was something very nice. The story is very touching and I enjoyed being part of it."
Shahab Khan also averred, "This is a very interesting story wherein the wife and father-in-law have a strong faith and belief going that Mata Vaishnodevi will bless their family and bring back their happiness."
Watch this space for more updates.