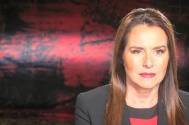 ID-Investigation Discovery will explore America's most compelling mysteries in a new series True Crime with Aphrodite Jones. The series will feature intrepid investigations into headline-making crime stories. Crime reporter and best-selling author Aphrodite Jones will personally interview the people behind these offenses to bring out hidden facts and solve the mystery of true crimes.
True Crime with Aphrodite Jones will premiere on June 14th 2015 and will air every Sunday at 9PM, on ID.
Each episode will follow Jones as she visits the scene of the crime in question, using her instincts to follow unique and surprising angles to separate truth from rumour behind the headlines. In her investigations, Jones will present compelling evidence and theories that will allow viewers to rethink their personal conclusions in some of the most enduring and baffling mysteries of all time.
In every episode, Jones will explore the different locations connected to murder cases and talk to people connected with the case including the perpetrators themselves. Jones will bring new information to every case and find new evidence or images that shed new light on the intriguing cases.
Aphrodite Jones is specialised for her non-fiction true crime stories. Jones is driven to get inside the minds of killers and is always striving to understand what drives these criminals to perform such despicable acts. Jones believes that understanding the trigger points of these people will reveal opportunities to protect ourselves against crime in our own lives.