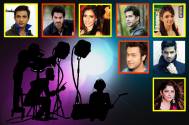 Ever wondered what goes around behind the screen to shoot just one sequence of a TV programme? On  International Workers' Day, today on 1 May, silver screen artists have demanded respect for the technicians who make showbiz a reality.
Here is what the TV fraternity members have to share:
Mohammad Nazim
The work hours stretch beyond 12 hours. Technicians need to be motivated in different ways and I personally feel that they are as professional as anyone else.
Mrunal Jain
The folks behind the scenes need to be treated well and pampered from time to time. Their working dedication can't be ignored.
Shivangi Verma
TV industry is growing by leaps and bounds. Technicians need to be taken care of. They are silent contributors in making the show.
Gunjan Utreja
With the increasing trend of TV soaps being aired six to seven days a week, shooting each episode may have become more stressful and demanding for the technicians. The least we can do for them is to provide a safer environment to work.
Vishal Singh
I love my work, so I am fine if the working hours stretch. Technicians also contribute a lot in the making of a show so their needs should be taken care of.
Pooja Banerjee
This field is obviously very difficult to work in, but a lot can be done to make the working conditions better by making some strict laws. Folks behind the scenes should be treated with respect just like any other professional.
Janvi Vora
TV industry must also work from 9 to 5 or 10 to 6, so that everyone gets to spend time at home. For technicians, it is much worse than (life for) actors. They start hours before the shift time and pack up hours later. It's just not fair to them, as in this industry, technicians are actually exploited. Shift hours must be reduced in TV industry for all.
Ripu Daman Handa
There are different categories and levels of labour in the TV industry. I personally feel that the real heroes of the TV and film industry are the technicians and helpers who always stand to support and help the show…These are the people who are always treated as the unsung heroes and are hardly credited and thanked for their immense job. These people should be uplifted and treated with respect and (be given) equal treatment as any star or celebrity.
What is your take on the same? Share your views in the comment box below!