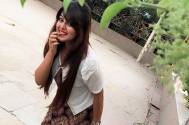 It's definitely not easy to be an actor. There are many painful experiences that actors' face during shoots.
The television actress Shafaq Naaz, who is currently playing the role of Mayuri in SAB TV's Chidiya Ghar, is going through a lot of pain these days.
According to our sources, the actress had to cycle continuously for a long time, leaving her all exhausted.
Confirming the same, Shafaq shared, "It's been six to seven days that I have been riding a cycle continuously. I have hurt my private parts and also having terrible body ache. I am so drained out, that I don't even go to gym these days. I had tried my hands on cycle after almost eight years."
We also heard that one of the junior artists got hurt while shooting for this particular sequence. The girl slipped down from the slope while riding a cycle and injured herself.
Take care girl!