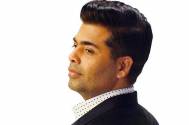 He makes films, acts, hosts chats shows, is a costume designer, judges reality TV entertainers and is now even on board as a co-curator of two channels – but one thing that Karan Johar is not up for is a daily soap.
"I won't come in daily soaps," Karan, who is a co-curator of Viacom18's two new English entertainment channels – Colors Infinity and Colors Infinity HD along with actress Alia Bhatt, said here.
"I know I want to do all kind of things, but now to be part of a daily soap might be pushing it too much. Being a judge for a reality show or an anchor for a talk show is okay as they come once or twice a week, but daily soap, no way," added the 'Kuch Kuch Hota Hai' director, who was seen as an actor in 'Bombay Velvet' earlier this year.
Colors Infinity channel will boast of content that will span genres such as drama, superheroes, comedy, fantasy, crime and thrillers and will focus on reality television with shows based on dancing, cooking, magic, singing and other lifestyle interests.
Viacom18 has entered into major multi-year deals with Warner Bros. International Television Distribution, NBC Universal, Sony Pictures Television, Twentieth Century Fox, Lionsgate, MGM, BBC and Endemol Shine among others.