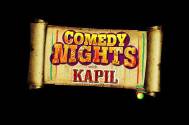 The cast of TV show "Comedy Nights With Kapil" has teamed up with People for the Ethical Treatment of Animals (PETA) India for a brand-new campaign to promote the adoption of homeless cats and dogs.
The campaign shows the cast on set alongside the words "DOG Bless This Family! Adopt a Dog From a Shelter or the Streets – "Don't Buy".
"People throw stones (at) them, torture them and they get injured. They suffer from diseases, and there is no one to take care of them, so this is our responsibility," Ali Asgar, who plays the character of Daadi in the show, said in statement.
Comedian Kapil Sharma himself has rescued a golden labrador named Zanjeer, a retired police dog, and the dog accompanies him to the set along with cast member Sumona Chakravarti, Ali, Sunil Grover and Kiku Sharda.
"Now, he is a part of our family," said Kapil, recounting a moment in which, the dog, attempted to protect his beloved actors by breaking up a staged "fight" between two cast members.
The campaign will go on air from Wednesday.