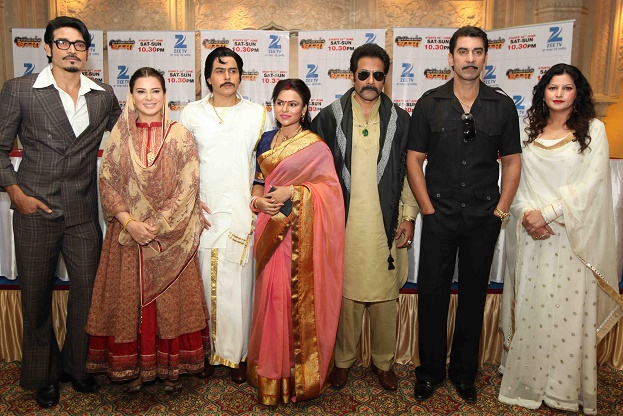 The story of a mother who emerged as a matriarch to millions… Amma – 'Ek Maa Jo Laakhon Ke Liye Bani Amma'.
Changing the tracks of its weekend programming starting 25th June at 10:30 PM, Zee TV presents Amma – 'Ek Maa Jo Laakhon Ke Liye Bani Amma'. The 52 episodes finite series captures the journey of Zeenat, a mother of two, deserted by her husband during one of the darkest phases of Indian history – the Partition.
In standing up to the adversities strewn in her path and attaining a formidable stature in a world dominated by intimidating men, Zeenat is a role model for today's women.
Produced by Salt Media LLP, the show marks the television debut of film actor Urvashi Sharma (Raina Joshi) essaying the author -backed title role. Seen for the very first time in a de-glam avatar, the actor has gone to great lengths to prepare for the role. The show also boasts of an ensemble star cast with stalwarts like Aman Yatan Verma in a never-before-seen avatar of a South Indian don Shekhran Shetty, supermodel-turned-actor Shahwar Ali making his debut on a television soap as Parvez – an upright lawyer who helps Zeenat fight for her rights.
Film actor Nawab Shah, makes a comeback to television as Haider, a dreaded underworld don who believes in action rather than words. Noted for his hard-hitting performances, Deepraj Rana will be seen as Kabeer Lal, a shrewd and strategic, power-hungry don from the Middle East.
The renowned Nasir Khan Walker makes a comeback as Abas Shaikh, Zeenat's husband who deserts her in the course of partition. Also seen in the show are Sonali Singh, a Mumbai-based politician making her first appearance on a TV show as Haider's wife Fatima and Jeetu Verma as a corrupt cop Inspector Prajapati whose atrocities ignite the spark of rebellion inside Zeenat.