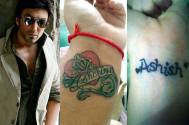 Ashish Chowdhry recently experienced an extreme actor-fan relationship when two girls named Nelli Govender got 'AshChow' which comes from the actor's nickname 'ChowChow' and Aleena got 'Ashish' inked on their hands. Although Ashish is happy to receive so much love but he advises all his fans to take precautions.
"I keep in touch with my fans on Twitter and tell them not to do anything that might upset their family. I have a daughter and though I am not a dominating father but I wouldn't like them to get inked permanently especially because these girls are unmarried. There are many ways to show your love to me. It's elating feeling to get so much love, but if I say I appreciate, then I would be encouraging them to do so, which I don't want to. What if they change their decision tomorrow? What if they become someone else's fans? Anything permanently on body should be done after a lot of thoughts."
"There are four people, the first one to do so was Nelli. When Aleena got her tattoo she sent me picture with the message that "I will not shout at her" because they know I am not going pat them on the back. Nelli sent me gifts when I was in South Africa. She was in touch with my wife too. I met her when she came to Mumbai because I wanted to ask why she did that; she said she is never going to get married so there is no problem of other man as well as her family were not unhappy with her decision. There was not much to say for me then. I don't like my fans to spend money on materialistic things, but at the same time I cannot encourage them to do things like this. It leaves me speechless. Therefore, I always tell 'My Family' on Twitter to donate money for my 'Masoom' initiative, which helps needy in terms of free education, night-schools."
Talking about actor-fan relationship Ashish says, "The relationship of actor and his fans is purely dependent on how the actor responds to them. Fans always shower their love, but if your love is not finding its way to the heart they are giving it to, it will never last. People like you for the projects you undertake, but the real love comes when they know you as a person. If the actor does not feel grateful and does not show it to his fans, they will never achieve fans of lifetime."
Way to go!!!