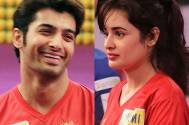 If the sunny weather is making you feel low, here is an exciting piece of gossip that will give you a great high.
Well a khabru whispered into our ears that two beautiful people are getting close to each other, fuelling gossip columns with their chemistry.
Wondering who are we talking about?
Surprise surprise- Ssharad Malhotra and Yuvika Choudhary!
Shocked?
Let us tell you more….
Ssharad and Yuvika who are playing for Kolkata Babumoshaye team in the BCL matches are being linked by not just the BCL anchors, but also their teammates.
Shared a source, "With the two knowing each other from their Zee Cine Stars time, they share a great bond and friendship. As they have joined the same team now, they are spending a lot of time and thus the smokes of rumours. Since both are single (Ssharad broke up with Divyanka recently), people tend to hook them up. But thankfully they are mature and are taking the fun teasing sportingly and with a pinch of a salt."
When we buzzed Ssharad he laughed to say, "They do it for fun. We are just friends and nothing beyond that."
Yuvika on her part replied to our text with just a smiley.
We understand your friendship guys…but all we can remember is SRK's dialogue- Pyaar dosti hai….love is friendship (wink wink)!!