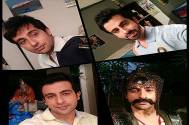 Talented and handsome Akhlaque Khan will get yet another opportunity to showcase his comic talent in the upcoming gag show on Big Magic, titled 'Ji Sirji'…
The show which will be a comic take on the on and off relationships between the bosses and employees in different fields, wherein irrespective of the situation it is the boss always who will have an upper hand, while the employees will more often have to do a 'Ji Sirji' to them…
Akhlaque will be seen playing various avatars of the troubled employee who would fall a victim to the boss' exploitations.
As for the actor, he has till now shot four different characters, that of a 'bechara' pilot, a cricketer modelled on Virat Kohli, a character by name Gunveer Singh, who will be like Ranveer Singh and an employee working for a Marwari seth.
Talking about this experience, Akhlaque told us, "Yes, I have been shooting for this new show, and it is real fun. I get to play not one, but many characters with different looks. It is more or less a workshop wherein I can learn a lot. As of now, I am playing the employee who is always a victim. If the character demands, I will love to enact a boss too."
Akhlaque was last seen in Sony TV's 2025 Jaane Kya Hoga Aage.
Here is Akhlaque's stunning display of his different looks for the show…
We wish you luck, Akhlaque…