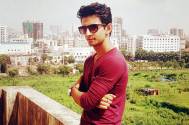 The latest venture on SAB TV, Police Factory (DJs A Creative Unit) is already in much talks for its different concept.
And here we introduce you to Akash Pratap Singh who will play the role of the fun loving Cadet Rishi Panchal in the series.
Akash who has earlier been part of Zindagi Wins and played a pivotal role in the movie Baby will be seen in a different avatar in the show.
Sharing details a source said, "Akash will play a a Gujrati on his way to become a doctor, when his grandfather as his last wish would demand Rishi to become a policeman. The young guy would have no option, but to grudgingly join the police academy."
Rishi will be seen entering the academy with his dadaji's asthiyan and will be seen talking to his soul now and then. It would be a fun character who would slowly start accepting his new fate and enjoy the responsibilities of a policeman.
When we buzzed Akash, he said, "It is a very interesting character and I am really excited to be a part of the show. We recently shot for the promo of Police Factory and I had a wonderful time enacting the role. Viewers should definitely watch this series to have a fun time."
Police Factory will launch from 5 September on the weekend slot!