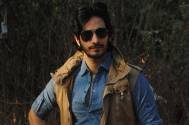 Actor Siddharth Arora, who will be seen playing the role of "modern" lord Krishna in upcoming TV show "Krishan Kanhaiya", says the "naughtiest" god is "different" from others as his life seems quite similar to a "common man".
The show is about a common man asking questions about the issues of his day-to-day life from God.
Siddharth, who shot for the opening sequence of the Sab TV show at the Red Fort here only last week, says that when he read stories about lord Krishna he found him "very different from other gods".
"He was the naughtiest. He was romantic. He did all those things which a common man would do, which probably we wouldn't expect our God to do. We can't see such things in lives of other gods. He did similar things that we do today," he added.
Siddharth has read a lot of books to play lord Krishna in the show. But he says his portrayal will have a more "modern" approach.
"I've read about lord Krishna. Maybe I don't have to wear the contemporary costumes most of the time in the show, but the essence needs to be the same. So I've read a book called 'Shri Krishna' in order to understand his whole life. Also, I've gone through Bhagavad Gita," he said.
The actor will be seen in a modern avatar, donning shirt and trousers.
"Not everybody expects to see god in such a modern look. So, to keep that essence of god and his body language, I had to make a perfect blend of the contemporary and modern look," he added.
"Krishan Kanhaiya", which will go on air in June end, replacing "Peterson Hill", will feature a unique god and man relationship, where the common man (Nikhil Ratnaparkhi) asks questions about his "not very successful and satisfying" life from lord Krishna.
(IANS)