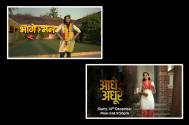 Zindagi that launched with a promise to bring the best content to our television screens from across continents showcases the superlative talent pool in India.
After winning the hearts of Indian audiences with stories from Pakistan and Turkey, the channel also introduced its first original content show – Shukriya. It was a first of its kind non-fiction show that captures the true essence of the channel's brand philosophy of 'Jodey Dilon Ko'.
Zindagi has embarked on a new journey with refreshing content for the modern Indian viewer. The channel has recently launched storylines produced in India that break the shackles of age-old stereotypical content that we see on Indian TV. Its original fiction programming line-up includes two shows – Bhaage Re Mann and Aadhe Adoore. The shows salute those who celebrate their life, are in touch with their deeper self, know who they are and are not apologetic about their decisions.
Bhaage Re Mann premiered on 30th November and airs every Monday to Saturday at 8:30pm. It is the story about a 39 year old, unmarried, new age woman who has always kept herself from getting tied down by societal norms. While Ajai Sinha's Aadhe Adhoore premiered on 14th December and airs every Monday to Saturday at 9:50pm. It is a story of a young woman's journey to be the perfect wife, perfect bahu and perfect bhabhi and her ability to strike a perfect balance between the emotions she feels and the circumstance she finds herself trapped in. These stories are the modern Indian woman's take with an underlying mantra – "Follow your heart".
A channel that has consistently showcased strong narratives, Zindagi leaves audiences engaged and engrossed, be it the superlative content from across the border or introducing a first-of-its-kind reality show, Shukriya to the best story from Turkey. The distinctive and strong narrative associated with Zindagi has taken a step ahead with the new shows produced in India. Bhaage Re Mann & Aadhe Adhoore capture the quintessential modern Indian woman who lives life on her own terms. It actually sets new standards for Indian content on television.
Get ready to witness an entire new world of drama with Zindagi's brand new original fiction shows – Bhaage Re Mann at 8:30pm and Aadhe Adhoore at 9:50 pm -every Monday to Saturday, only on Zindagi.