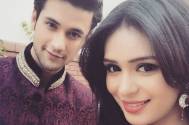 After all the MMS drama in Shastri Sisters (Shakuntalam Telefilms), it's time for patch up moments between the Shastri and Sareen family in Colors' popular drama.
The loyal viewers of the daily have already witnessed that after watching Devyani's (Sonal Vengurlekar) MMS clip Shastri ji (Rajesh Jais) got furious with his daughter, but Anu (Ishita Ganguly) decided to help her little sister. And when Devyani asked for Neil's (Sumit Bhardwaj) help then he had turned down her proposal.
This in turn emotionally shattered Devyani and seeing her sister in such condition Anu decided to disclose the truth to everyone.
Our source revealed, "After learning about the truth regarding Neil's action Sareen (Gireesh Sahedev) will be furious and Rajat (Vijayendra Kumeria) will also be very upset with his brother's actions. Irked by his son's behaviour Sareen will ask for Devyani's forgiveness and he will propose for Devyani and Neil's marriage to Shastri ji".
Ashamed with Neil's behaviour Rajat will also be seen supporting his father's suggestion. But as expected, Minty (Neelu Kohli) will be very much upset with this new development and Neil will also be shocked after learning about his father's proposal, added the source.
This will be an interesting watch to see whether Devyani and other family members will accept this proposal or not and how Neil will try to escape from this marriage.
We tried reaching Sonal Vengurlekar for a comment but she remained unavailable.