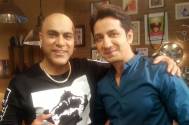 Vijay G Badllani has of late won many hearts with his 'Naaradji' avatar for the last one year.. However, it's a known fact that the actor is versatile to the core, and can blend well into a comic role as well as the negative characters.
Now, viewers will see him in yet another different avatar, in a different setup altogether.
Vijay is presently busy shooting for a Web Series, titled 'Soadies', produced by Frame Pictures and Reliance (Viacom). The series will get released on Youtube and on Reliance channels.
Talking about Soadies, the story will be a take-off from the popular and controversial show Roadies. Just like in the reality, the stories in the web series will revolve around the various tasks given to the people living in the mohalla, by one tough task master, played by the popular figure, Baba Sehgal. However, Soadies will be enriched with comedy dwelling around sarcasm and below-the-belt punches and liners.
Coming on to Vijay's character, he will play a typical Punjabi sophisticated guy who would be living in the mohalla, where Baba Sehgal's character would be residing.
The tasks that Baba would draw the entire neighborhood into, will end up creating a havoc, wherein all in the neighborhood will start opening up the dirty secrets of the other.
When contacted, Vijay told us, "Yes, I am presently shooting for the web series. As we know, this is the new trend and I am happy to be experimenting. Working with Baba Sehgal has been a great experience. He is a very down to earth guy who gels well with all. His spontaneity and professionalism is simply supreme."
Wish you luck, Vijay!!