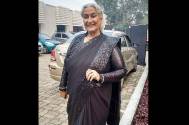 Someone has rightly said that 'age is just a state of mind'…
Wondering why do we say so?
Well readers, Mita Chatterjee, the 83-year-old veteran actress, who is popular for essaying the role of Pishima (Aunt) in the longest-running daily soap Janmabhoomi on the small screen of Bengal, is gearing up to shake her legs in the upcoming Zee Bangla's Sonar Sansar Awards.
Yes you heard it right. And we can confidently state that she can give any youngsters a run for their money.
Addressing a group of media personalities, the veteran actress said, "It is due to God's grace and the love and affection showered by the audience, that I am able to work  even at the age of 83. I started working since 1944 and now it is 2016!"
She added saying that the time span for which she had been working has had an unique pace and has been giving her immense pleasure.
Responding to a question on why we do not get to see her more often in movies, the graceful lady humorously put the ball in the court of the media personalities saying "Why don't you approach a few producers and convince them that the old lady is till surviving and fit to work?".
She quipped further adding, "I think veteran actors are not getting their due. It is a common trend to put on make up and dye the hair white and fit into the roles of the aged. But I feel that the people who are originally aged and are able could be tried for such roles. Now, if the producers and directors do not consider it, what can I do!'
The actress said that the viewership of television is wider compared to cinema.
"Cinema caters to a limited audience as many are unable to go to a movie hall and watch movies, but today every households have televisions. Many do not know me by name, but I am popular as Pishima," she signed off.
Well said!