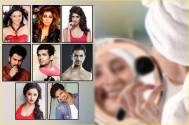 TV's most beautiful girls and boys are just growing prettier by the minute. Have these actors made a deal with the devil? Or is it something to do with 'unknown' beauty tricks? So, we got asking…TV actors reveal their beauty secrets. Take a look…
Tina Datta
I drink lots of water throughout the day. I keep my skin moisturized at all times, especially before going to bed. It isn't rocket science, just a few simple things to keep my body and skin nourished.
Arjun Bijlani
Wash your face two or three times a day. Moisturize your face after that, followed by a dab of sunscreen. Apart from that, inner health is very important so I have only healthy food. I workout 5 days a week. Eat a lot of greens, fruits and a good intake of protein. To hydrate myself, I drink 5 litres of water daily.
Rishina Kandari
I have sensitive, oily skin. So I wash my face thrice daily and use a good toner after that. I use a light moisturizer at night in winters. Apart from that, I use lots of herbal and Ayurvedic face packs and scrubs. I work out at least 3 days a week. I make sure to get a good massage once a month. I eat everything, but in moderation. Getting enough sleep is important too. Most importantly, I make sure to keep my thoughts positive. That's most important when I am taking care of oneself.
Rashami Desai
I wash my face with rose water daily. I use moisturizer and sunscreen whenever I go out. I never sleep with make up on. I always wash my face and use moisturizer before going to bed. Also, eight hours of sleep is a must for me. Spending time with my pet dog Oreo is equally important.
Mohammad Nazim
I wash my face constantly. I carry a water bottle wherever I go, so I remain hydrated. I use face wash too.
Vishal Singh
I thoroughly wash my face with water daily and regularly. I try and use sunscreen too. 'Healthy skin and healthy mind' is my belief. I drink juices regularly too. I am very careful with my eating habits too.
Ajay Chaudhary
I chat with friends to keep myself motivated, besides drinking water and nimbu paani regularly. I eat healthy and never let myself go hungry ever. My wife is also very particular about what I drink and I carry home-cooked food when shooting. I wash my face after pack up and use moisturizing lotion.
Aishwarya Sakuja
I drink methi-dana water daily. I also use a combination of crushed almond and thick milk for moisturizing skin and hair. I also drink water throughout the day to keep myself hydrated.