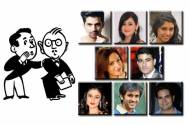 Childhood is filled with innocence. During the nascent years we tend to learn a lot many things from our parents, teachers and relatives. And whatever they used to say back then we believed completely. But everything was not true. Some were facts while others sheer rumour.
Today Twitter took us on a nostalgic trip with the hashtag #WorstChildhoodRumors.
Hence we called up TV stars and asked them about their worst childhood rumour. Here's an interesting read.
Karan Mehra
Elderly people used to say if you swallow your tooth then a tree will grow in your stomach.
Vishal Singh
One of my close aunties used to not allow me to step out of the house after eating sweets as she used to find it unlucky. So she used to give me a pinch of salt and then send me out.
Aditi Sajwan
In high school, girls believed this rumour that if you ate 30 golgappas everyday you would lose weight. However, everyone just gained weight.
Niti Taylor
Eating spinach will make you like Popeye.
Preetika Rao
If your palm itches, you will receive money.
Gautam Rode
There was a great rumour and myth that if you get hiccups someone is missing you.
Ragini Khanna
My father had always told me in my early days that I was adopted. This used to make me cry and seeing me cry they used to laugh.
Mishkat Verma
If you swear on someone falsely, then the person would die. And also about crossing fingers when lying or making a false promise.
Do share your childhood rumours with us by commenting below!