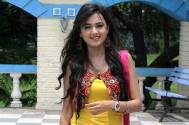 Actress Tejaswi Prakash Wayangankar, popular for playing Ragini in "Swaragini", says she keeps herself busy by taking dance classes when she is not shooting for the TV show.
"Swaragini" is about two sisters played by Helly Shah and Tejaswi.
"Right now the track has gone off focus from me, but I am going to be patient for as long as I can and then take a decision accordingly," Tejaswi said in a statement.
She also shared that she is focusing on dance for the time being.
"I have started taking my dancing very seriously and even started my classes. So that's something that is keeping me busy these days," she said.